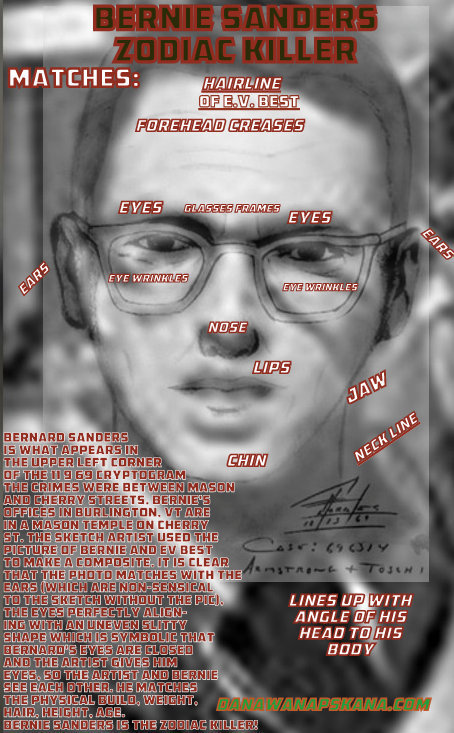 IS BERNIE SANDERS THE REAL ZODIAC KILLER OF PAUL STINE?
By Dana Graham Phelps

who was:

Censored/Defrauded/AssaultedbyCops/

FalselyImprisoned/Starved/CatStarved

by Bernie

with Burlington Police Department, City Market Onion River Co-Op (groceries),
Seven Days Newspaper, WRCC/HOPE RAPE, State of Vermont
Fake News is the reason the Zodiac Killer

Cryptogram came to Dana Graham Phelps' attention. When 7d News made Fraud and Swindle upon Dana for a film making venture Dana was producing involving rape testimony,
The journalist used a ciphered message and mocked Federal law enforcement a lot like the Zodiac Killer. Since Picard's newspaper promotes Bernie, the connection becomes more clear.
Download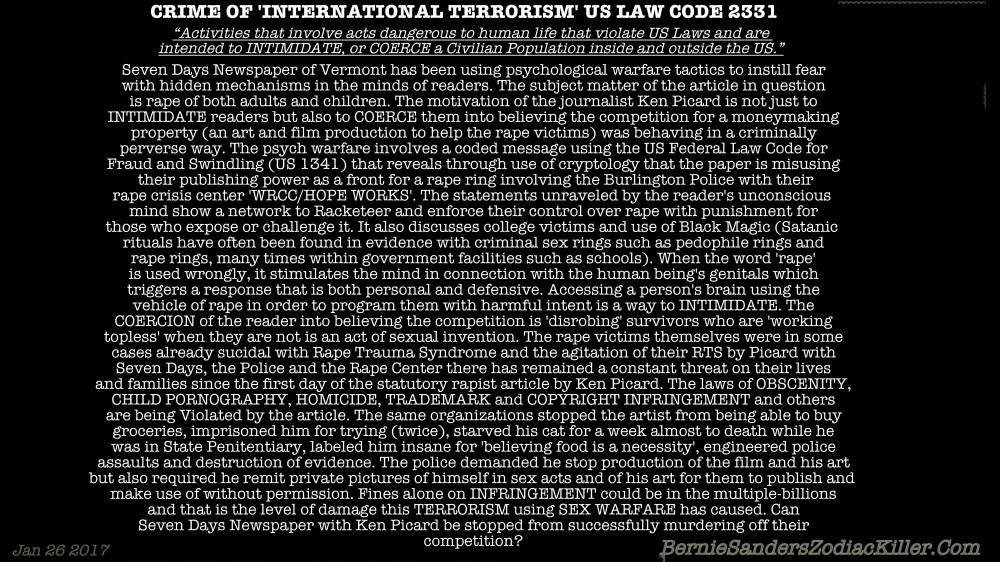 Download
BernieSandersZodiacKiller.Com

by Dana Graham Phelps 

TOO HOT For Art Bell Radio

TOO HOT
For
Seven Days News
TOO HOT
For
Nature Magazine
TOO HOT
For
Mainstream News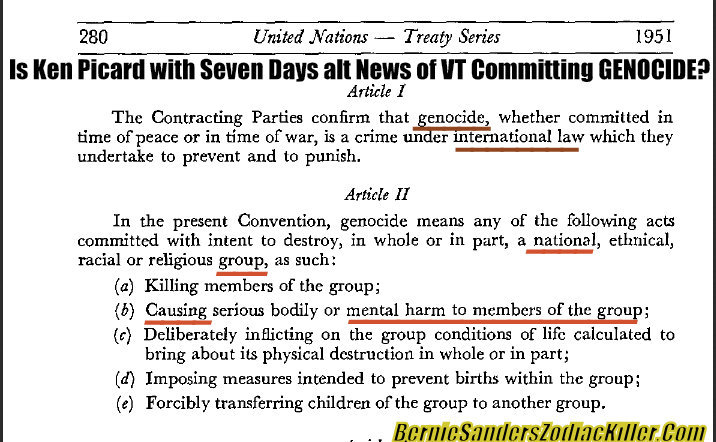 Dana Graham Phelps co-hosted and did sound effects/production for the BANNED show "Starfire Wolflair Starring Carolyn Rose Goyda" for the ART BELL DARK MATTER RADIO NETWORK. Dana and Carolyn were summarily *fired* directly for content regarding claims of LBJ being responsible for JFK's death. This has since become supported by more evidence but the station would not have it.

Dana was CENSORED by Seven Days News Alt of Vermont, the largest Vermont newspaper which now currently libels/defames/defrauds/statutory rapes/attampts homicide/copyright and trademark infringing upon him. This is an ongoing legal battle with much history. The numerical theory of Infinity which took Dana most of his life from Kindegarten on to complete was censored by the Seven Days Facebook page during a conversation with a science related person.The State of VT stopped Dana's first film "Figures" from production which was to assist rape survivors and to establish a new survivor center. The HOPE WORKS/WRCC rape crisis center got all the $ instead as competition for the identical project which they defrauded with the newspaper. Dana's second film "Raiders Of The Lost Clam" is being Defrauded by OR with the Federal government which created a false shooting event in Dana's city of Newport, OR which featured an actor portraying a likeness to a character from his current film. That film will be released after much delay and many failed attempts by the U.S. to stop it. Dana feels that he and his cast are being directly threatened. That hoax shooting video is on youtube "Newport Hoax Shooting". Dana promoted the legendary Walk of Fame Star John Barbour's "JFK: The Last Word On The Assassination". Dana made Youtube video promotional commercials for Barbour's landmark work which became an Amazon Best Seller for many weeks!
Dana was CENSORED by Nature Magazine -- the World's Largest Science publication! This came as a result of his submission of the above essay with proper Abstract and Cover Letter. The magazine requested a second attempt then banned Dana from submissions. The first CENSORSHIP of the formula came from SEVEN DAYS NEWSPAPER of Vermont which has attempted homicide on Dana as they continue to do to this day! Nice try, 7d! 1 still equals Infinity!

Dana has been banned and / or censored by: NASA, the European Space Agency and the DLR (German version of NASA -- all for his Statue Picture or Video on Mars where a giant statue of a 4-legged animal was caught on satellite. It's not as easy to see anymore, Google Earth caught on and the area is now diffused on their Google Mars imaging system), Seven Days, Twitter, Facebook, The Burlington Free Press, The Vermont Health Department, City Market Onion River Co-Op, the State of Vermont (Dana was gagged in court after being found 'Insane and Incompetent to Stand Trial' for 'believing food is a necessity'-- the State also starved his cat nearly to death who was barely saved by his best friend and mentally disabled neighbor from a prison letter), the BPD (Dana was told repeatedly not to call police ever again, even in the event of reporting an actual crime...they also censored testimony of their assault and other facts about their starvation and homicide attempts), Dark Matter Art Bell Radio Station (specifically for content relating to Carolyn Rose Goyda's claim that LBJ was directly connected to the JFK assassination-- she was the star of the program Dana co-hosted and did music/sound for), NBC, CBS, ABC, CNN (for 9/11 Truth, mostly about 2008), Matt Drudge/Drudge Report, 
HEADMEMES.COM AND BERNIESANDERSZODIACKILLER.COM ARE ON HIATUR WHILE PREPARING FOR A VENTURE TO THE NETHERLANDS! THIS CASE AGAINST SEVEN DAYS NEWS WITH KEN PICARD, THE BURLINGTON POLICE DEPARTMENT, BERNIE SANDERS AND PETER WELCH, MAYOR WEINBERGER AND THE HOPE WORKS RAPE CENTER WILL ALL BE GOING TO THE HAGUE. INTERNATIONAL CLAIMS AGAINST THEIR GENOCIDE, DENIAL OF ADEQUATE FOOD IN THE COMMUNITY (STARVATION LOCALLY) AND TERROR, TORTURE WILL BE ADDRESSED FORMALLY WITH PAPERS, EVIDENCE, BARRISTERS, MEDIA ATTENTION AND WITH A LAWSUIT FOR DAMAGES, A REQUEST FOR THEIR BEING CHARGED.  THE EVIDENCE OF STARVATION IS THAT DANA WAS OFFICIALLY BANNED FROM FOOD IN HIS OWN CITY FOR FIVE YEARS -- A CLEAR VIOLATION. THE EVIDENCE FOR GENOCIDE IS 'SERIOUS MENTAL HARM TO A NATIONAL GROUP' OF THE PSYCHOLOGICAL WARFARE USED BY SEVEN DAYS NEWSPAPER FOR GOING ON 8 YEARS NOW, CLEARLY WEAPONIZED USE OF RAPE. .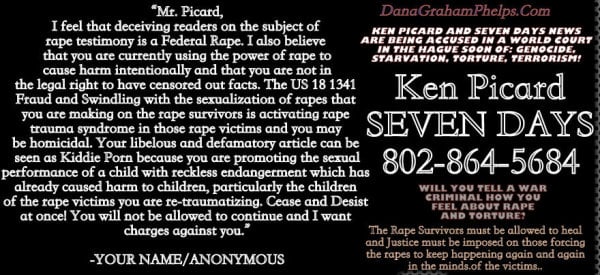 Persons In Images Do Not Endorse Opinions Expressed By MEMES